Singapore Hostels
There may be more backpackers coming to Singapore but, collectively, they remain very much a niche market. Thankfully for such travellers, there are hostels here that offer budget rooms that cost around $20 to $50 per night.
That compares with hotel rooms in the popular
Orchard
Road belt that can cost $200 or more a night.
Many of the hostels are based in
Little India
, though there are a handful in the Orchard Road area. There are also a few boutique hotels in
Chinatown
and the
Bugis
area that offer budget accommodation.
Needless to say, there won't be much in the way of luxury at most of these hostels. You might be required to share rooms and toilets. Most would also have a common area for guests to relax and socialise.
Here are some Singapore hostels you may want to consider:
YMCA International Lodge
Possibly the most well-known hostel in Singapore, the YMCA International Lodge was opened in 1991 and is conveniently located at one end of Orchard Road, close to the
Istana
. A bed in the dormitory starts from $35 per night. There are single, twin and family deluxe rooms available, ranging from $180 to $215 a night.
Guests have access to the lodge's rooftop swimming pool, the members' lounge and a cyber cafe.
Matchbox The Concept Hostel
Matchbox The Concept Hostel offers pod-style bed cabins and designer décor for upmarket travellers looking for an interesting place to stay. Each pod has a power socket, a reading light and a clothes bar. And you'll also get an iPod dock in the room too.
There's also a female-only dorm available and a private room too. Make the most of all the free stuff, from Wi-Fi to breakfast to exercise equipment and you'll also enjoy hanging out in the sitting room and attic too. It's located in Chinatown just a minute away from some cool shops, bars and restaurants.
Matchbox Hostel's entertainment loft
Hangout @ Mount Emily
Hangout @ Mount Emily, a no-frills boutique hotel, offers 'zonk out' shared rooms (for guys only) at walk-in prices of $50 a night. The hotel also offers private rooms, but these come at more typical prices, ranging from $240 a night for double/twin bed rooms, to $500 a night for a five-bed room.
Common facilities include a lounge area equip with a TV, a pool table, a cyber corner, a smoking area, token-operated laundromats and lockers, and complimentary tea and coffee.
The best thing about the hotel, however, is its great location. The hotel is just a stone's throw from Orchard Road, with the Esplanade and Marina Bay within walking distance, making it a good base from which to explore downtown Singapore.
River City Inn
Located right in the centre of Singapore City, less than 3 minutes' walk from the Singapore River you'll find River City Inn. The family run hostel prides itself on offering great hospitality and a place to really unwind.
You'll get free wi-fi, a good breakfast, air-conditioning, and a great location close to the bus stop and subway. Stay here and you can make the most of Clarke Quay, Chinatown, Suntec City, The Esplanade, Victoria Theatre and the Concert Hall.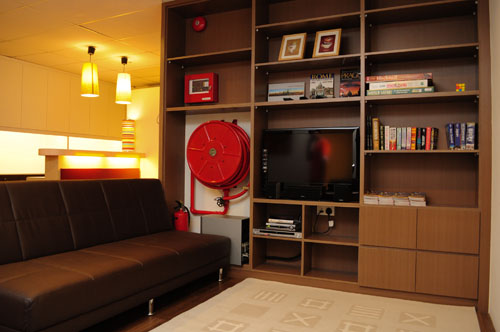 River City Inn's Lounge
Betel Box Hostel
A bed in this hostel's dormitories can cost as low as $20 a night, and the family room costs just $60 a night for two people. There is a catch, though: Betel Box Hostel is located in Joo Chiat, a district lying outside the downtown area, quite far away from most major attractions.
The hostel makes up for this with organised food walks that take guests to a number of popular eateries in Joo Chiat. Participants can sample more than 35 local dishes at just $60 per person, including the cost of all food and drinks.
Pillows & Toast
Guests praise this Chinatown-based bed and breakfast for its cleanliness, hospitality and location. Pillows & Toast offers its guests peace of mind as it maintains security with close-circuit cameras and keycard locks on all room doors.
Free Wi-Fi is available, so there's no need to share a limited number of Internet PCs like guests do in some other budget hotels. Mixed-sex and single-sex dormitories are available, with beds going for $26 per night each.
Wink Hostel
Perfect for the boutique flashpacker, the Wink Hostel is a high tech place to stay located in the heart of Singapore's Chinatown. They have pod style beds so travellers can cocoon themselves in their own personal space and have everything they need within easy reach. The walls are sound resistant and as you enter the room with your personal card the backlight to your own headboard will light up to guide you to your bed – amazing!
Mixed dorms, ladies dorms and mixed-double dorms are available. You'll be just round the corner from the Clarke Quay – the premium nightlife spot. And you'll also be close to the renowned Marina Bay Waterfront too.
Wink Hostel
Sleepy Sam's
Considered one of the finest hostels in Singapore, Sleepy Sam's is a perennial favourite among backpackers, who come to indulge in the casual and exotic atmosphere of its location on bohemian Bussorah Street in Kampong Glam, a Malay heritage conservation district. Well-furnished dorm rooms, both mixed and female-only, are available, as well as private rooms, with beds going from $28 per night.
Free internet is provided, as well as breakfast, fresh linen and pillows. Rooms are air-conditioned and there are hot showers in the hostel. The hostel has a fully-equipped, kitchen and a cafe, as well as a safe deposit for keeping valuables. There is no curfew or lockout, and full security.
A Beary Good Hostel
This hostel offers warm hospitality and homely accommodation at just $26 per night for a single bed. It occupies two converted shophouses in Chinatown's Pagoda Street, which means that guests here get to enjoy Chinese food at their doorstep.
You must be logged in to add a tip